Celebrating Vietnam - Denmark Cultural Festival At Nguyen Sieu School
April 10, 2019 was such a special day that imprinted surprising and inspirational cultural exchange moments on the minds of Nguyen Sieu, Skals and Nykøbing International Boarding School's teachers and students.
After 2 weeks of exploring the country and humans of Vietnam, Danish exchanged students and Nguyen Sieu students reviewed their wonderful experiences together, and immersed themselves in a wide range of cultural exchange activities. At the same time, the event was a milestone to commemorate the international partnership between Nguyen Sieu School and Skals Efterskole and Nykøbing Katedralskole, witnessed by Mr. Morten Pristed (Counselor of Health and Education at Embassy of Denmark in Viet Nam) and the School Executive Board and teachers.
Jointly cooking and enjoying conventional foods, traditional costumes show, and Vietnamese folk games were gifts of memory that Nguyen Sieu School dedicated to beloved Danish friends.
Mash-up of folk and contemporary dance "Cò lả" and "Bèo dạt mây trôi"
"Ngàn ước mơ Việt Nam", co-performed by NSS teachers and students
Excitement shone in the audience's eyes
Everybody burst out laughing at Skals students' funny dance performance
Meanwhile, Nykøbing students brought Danish atmosphere to the festival with the national anthem
Mr. Morten Pristed – the Health and Education Counsellor of Embassy of Denmark in Viet Nam highly appreciated Nguyen Sieu School's contribution to strengthen Viet Nam – Denmark relations
Ms. Nguyễn Thị Minh Thúy – NSS Principal and teachers from Skals and Nykøbing
Students presented about their exchange experiences in the host countries as well as introduced their own schools and countries
"Hmmm… I am hungry. Let's cook together!"
Afternoon fashion show helped Danish students to get an overview of Vietnamese costumes in different eras
Pull, pull it harder, pull it stronger,… until we win!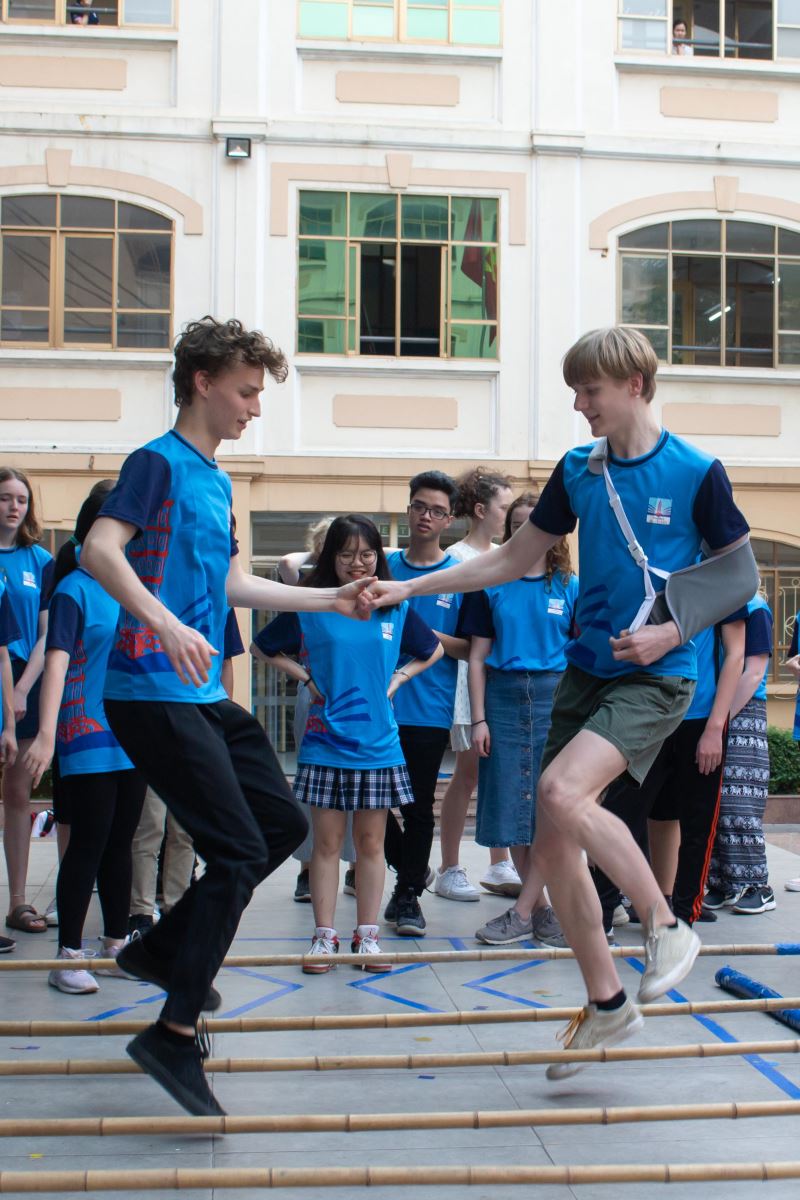 After Tug of war, let's move on to traditional bamboo dancing!
Let's burn the last drop of our energy into rope jumping.
*Photo: Nhue Anh, Huong Linh
Author: Huong Linh