The 6th ASEAN Children's Forum, organized via an online platform, with the topic "Impact of Covid- 19 and the Current Situation for Children" was held on October 13th 2020. It was hosted by the Cambodian Ministry of Social Affairs – Veterans and Integration of youths and children.
As one of the three representatives for children in Vietnam, Tô Anh Minh from Nguyen Sieu Secondary and High School had a concise presentation and shared children's wishes and recommendations to cope with the Covid -19 pandemic, which were highly appreciated by the delegates of other countries.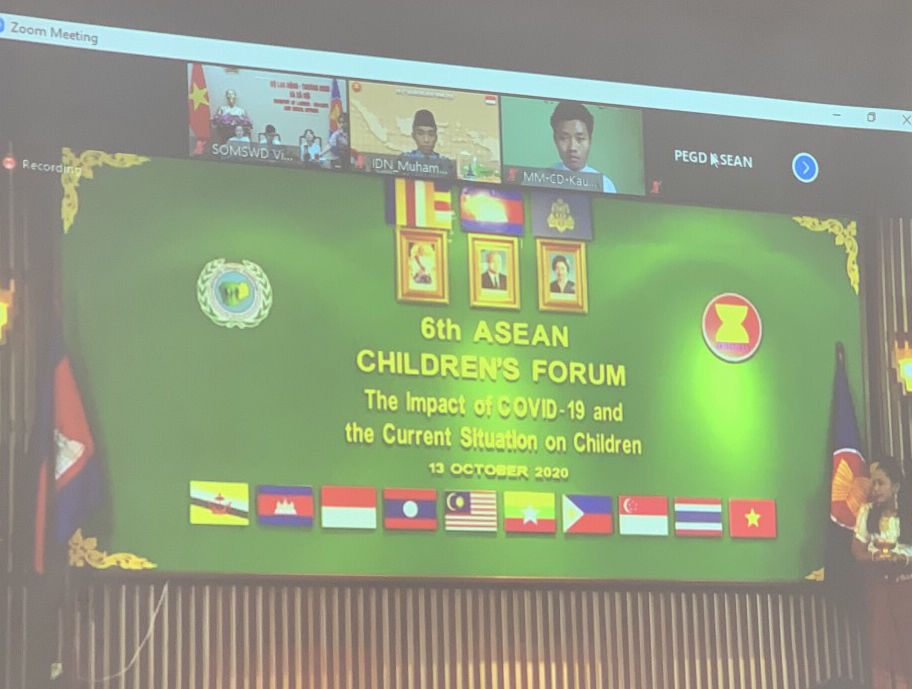 This forum was an opportunity for young people, from various countries, to share experiences and be heard by their peers and representatives of international organizations: ASEAN ACWC, LEGO Fund, WHO and UNICEF. They discussed various topics related to impact of Covid-19 pandemic: measures for prevention from pandemic, mental health and rehabilitation; initiative of protecting children in online environment, cyber safety, education and livelihood and distance – educational methods, education quality and qualification, household livelihood and impact on children and many interesting questions in the Q&A session.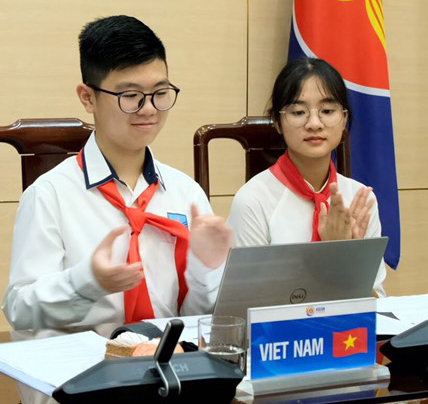 Full text of Tô Anh Minh's English speech:
Dear Delegates,
According to our knowledge and understanding, COVID-19 originated from China around the end of 2019. Since then, it has become a worldwide problem, and has changed how we have lived our lives the past few months. This is also the case in Vietnam, which is going to be my main topic. We will present about some of the aspects that the virus has affected the people in Vietnam, as well as what us children can do to help.
Firstly, our country has taken measures to ensure the safety of our people, including temporarily suspending labor work until further notice. This heavily affects the daily income of families in Vietnam, especially those who live in rural areas or are part of ethnic minorities, as it leads to adults becoming temporarily or permanently unemployed. Furthermore, it has pushed some families to take loans just to purchase daily essentials, which include things like soap, hand sanitizer and food.
The second aspect we want to talk about is children's health. Since the start of the pandemic, vaccination sessions have been delayed or canceled as they would have taken place at medical centers which are now flooded with patients or are being used as test centers. Missing a vaccination can severely damage a child's immune system and can lead to them being more vulnerable to other diseases besides COVID-19. Another notable situation is that with the lack of school meals, children now have limited access towards a variety of meals as well as have a reduction in terms of numbers of meals. This could lead to malnutrition if they do not consume enough nutrients in those limited meals. We would also like to note that mental health and psychological health is also affected, as children are increasingly worried and stressed about the virus and its impacts, which could lead to depression very easily.
Speaking of school meals, this brings me to our third notable aspect, which is school. Since going to school is now restricted in order to prevent the spread of the virus, the internet has been a great tool in helping sustain the learning of many schoolchildren. With the power of online conference applications, students can learn and understand knowledge just as efficient as if they were in class. However, as I mentioned before, some families' income might not be enough to provide their kids with devices to participate in online classes, causing a large part of Vietnam's children to go on without school during this period.
So how can us children help solve the problems that COVID-19 has caused? The first way is increase our self-awareness by researching about the SARS-CoV-2 virus as well as ways to prevent infection and protect ourselves from it. This gives us more background knowledge on the situation as well as have a better understanding of what to do to help. The second thing to do is maintain our health by doing lots of exercises or even doing your hobbies like drawing, playing instruments, sports (alone or with very few people, preferably in your own family). Not only does this help children stay fit in quarantine, but it also can help them take a more optimistic look on life as it energizes your body and soul. If you have any worries about the virus, the best way is to share with your family to avoid too much anxiety that you can handle by yourself. If there are people with electronic devices near you (which, in 2020, is impossible to not have) you should go there and ask to share for educational purposes, as e-learning is unavoidable in this situation.
With all of the solutions above, we would like to make some recommendations to the leaders of countries. In order to support households, there should be other jobs besides labor for the people who relied on it but lost their jobs due to COVID-19 so that they can maintain the income their families receive for life sustainability (education, nutrition,…). For healthcare availability, other healthcare needs need to be sustained, in which there is only a few facilities able to do so. We can do this by opening more hospitals or medical centers or deploying more instant healthcare members to deliver healthcare to people's homes. Sanitation must also be promoted and sanitation products (soap, hand sanitizer, etc.) must be given out to those who do not have any. In terms of e-learning, there should be more innovative and resourceful applications for children to learn through while being suitable for all children at all locations. Furthermore, those applications must also have a place to learn skills that help them in situations like now. There should also be some mental health programs and centers to help deal with the pressure and anxiety children face during the pandemic, both inside and outside school.
As we are dealing with a worldwide threat, it's best if we stick together and cooperate to fight this virus and eradicate it from existence. We came to this forum to help strengthen the bonds of our countries during these rough times, and I hope to accomplish that by sharing our ideas and opinions on the situation. We hope to soon see happier, more prosperous times. Until then, thank you for listening to our presentation.