In collaboration with the British Embassy in Vietnam and the British Council in Vietnam, Nguyen Sieu School in Ha Noi launches the drawing contest "Creative Earth" to raise awareness of the young generation about climate change and the COP26 Conference. The competition is organized for young Vietnamese children under 16 in Vietnam and others countries from September 21 to October 24, 2021.
COP26 is the 26th United Nations Climate Change Conference of the Parties, hosted by the UK, in partnership with Italy, held in Glasgow (UK). This climate change conference is among the largest international meetings in the world, involves officials from every country in the world, representatives from civil society, the public, and the global news media.
According to a UNICEF report (August 2021), children and young people living in Viet Nam are among those most at risk of the impacts of climate change, threatening their health, education, and protection.
With innovative ideas and boundless energy, Vietnamese youth are critical for advancing a better future. They are young ambassadors who can spread positive influence to their families, schools, and communities through simple daily climate actions.
To raise awareness about climate change and COP26 Conference, British Embassy Hanoi, in collaboration with British Council Viet Nam and Nguyen Sieu School in Ha Noi, launches the "Creative Earth Art Competition".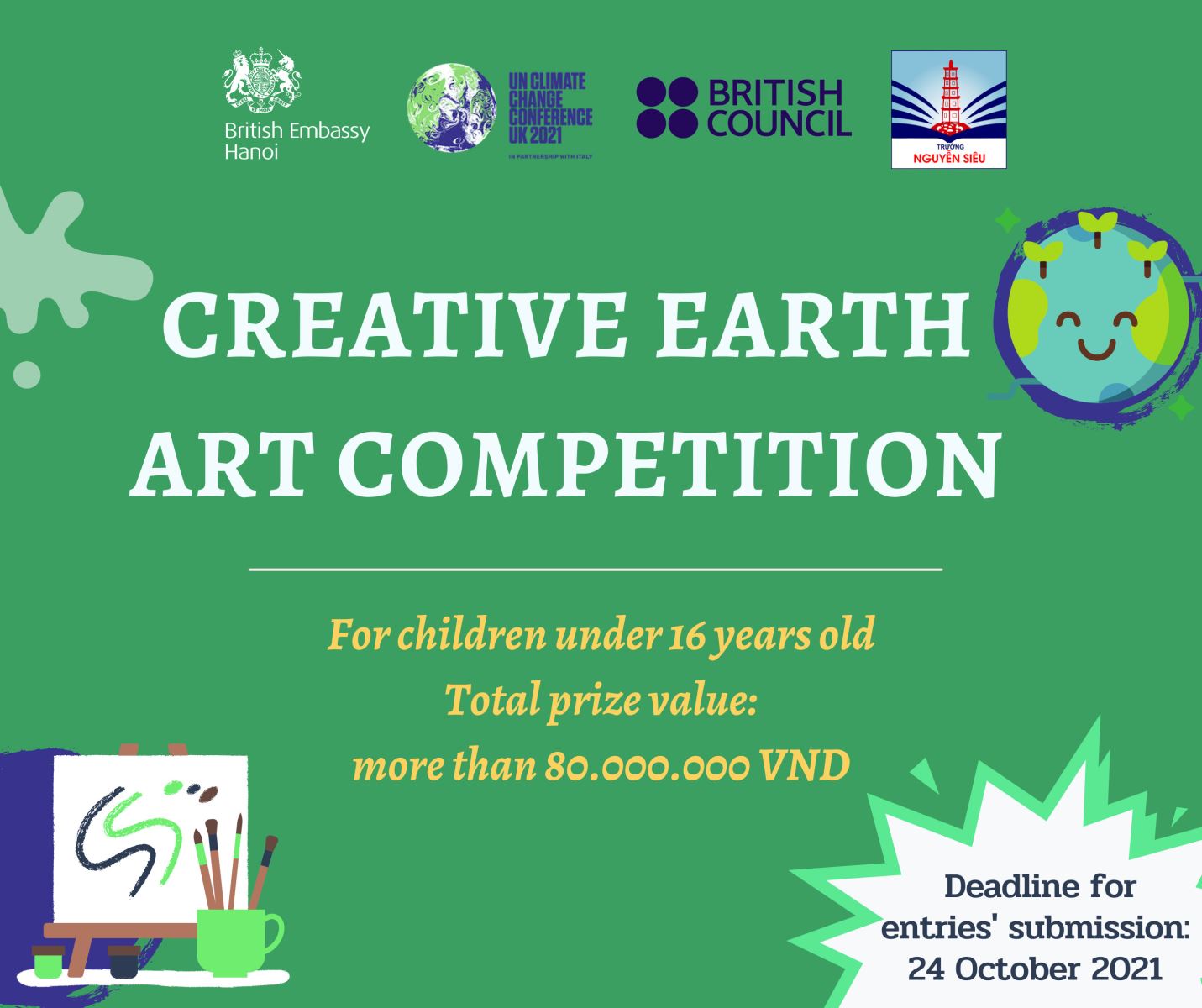 Poster of "Creative Earth Art Competition"
Participant: All Vietnamese children who reside in Viet Nam or overseas and are under 16 years old are eligible to join the contest. There are three different age groups:
1. Group 1: from 8 years old and under.
2. Group 2: from 9 - 12 years old.
3. Group 3: from 13 - 16 years old.
Content:
1. Print our provided template (page 6 in the competition guideline) and draw inside the circle. You can imagine the circle as our Earth, and the drawing inside it is what you expect our Earth to look like.
2. Share a few words about the drawing. It helps us to understand your vision and imagination about the future Earth.
3. Make sure to scan/take photo of the drawing in high quality and send it to our competition's email.
Submission deadline: From September 21 to October 24, 2021.
Prizes: The 03 best entries in 03 age groups will be selected. Each winner will receive:
1. 01 fully-funded British Council's English courses, worth more than VND 22,000,000.
2. 01 cash prize worth VND 5,000,000.
3. An opportunity to have your drawing exhibited at the Nguyen Sieu School Museum.
4. Top 10 best entries of each age group will receive a Certificate from the British Embassy Hanoi.
The result will be announced on November 5, 2021 - The Youth and Public Empowerment Day of COP26 Conference.
>> See the full contest, how to submit work of art, and general rules at: https://bit.ly/drawingcompetitioncop26
>> Click "Join" the event page on Facebook to be updated with more information: https://fb.me/e/22riBSptD
#CreativeEarthArtCompetition #TogetherForOurPlanet