Many of our students go on to study at universities overseas, but pursuing higher education in Japan is a unique endeavour! Hear from the experiences of our former student, Lưu Nguyễn Ngân Hà, who is currently in her third year at Sophia University in Tokyo, Japan.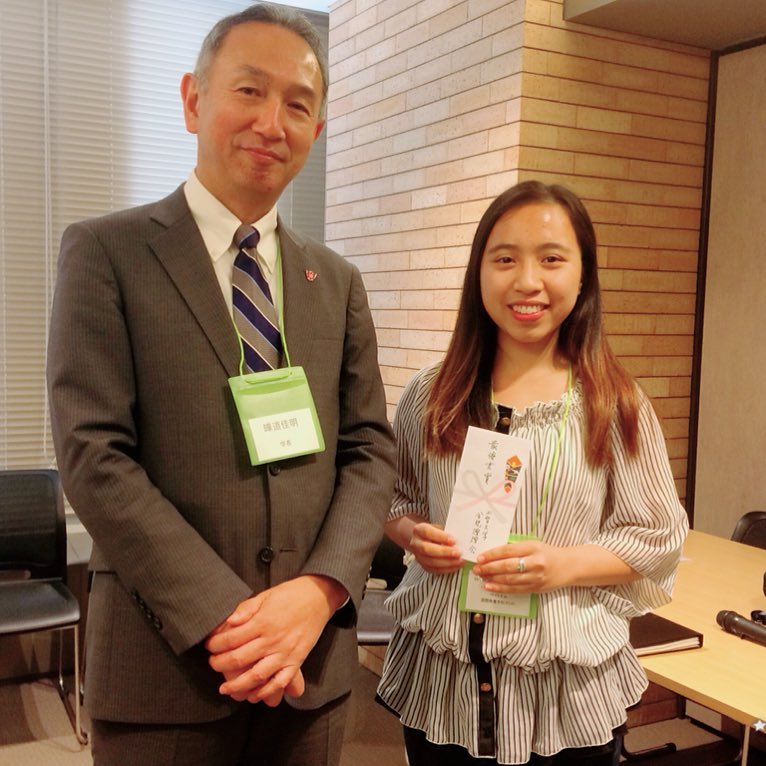 Awarded first prize in the Sophia Haiku Contest by the President of Sophia University, Professor Terumichi Yoshiaki
When I was in high school, like so many of my peers, I always dreamed of studying abroad and broadening my horizons. Being in Nguyen Sieu's specialised English stream, I knew that I had many attractive options in English-speaking countries. Though they would have been the conventional choice, I eventually decided on Japan for my university education. Initially I was drawn to the country partly through what I had seen in photos sent by family members, and partly for the people and their culture.
When I was in Grade 10 in Nguyen Sieu School, I participated in an exchange and homestay programme with visiting high school students from Japan. Through the programme, I came to have a great deal of affection and a good impression for the country. The Japanese friends I made were so kind, polite, easygoing and peaceful! They definitely left a lasting impression on me. I became very curious about Japan's education system, and how it shaped people as great as the ones I met.
Applying to Sophia University
After I decided I wanted to study in Japan, I researched all the necessary steps required to apply to a Japanese university, the industries I was interested in, school fees, cost of living, the environment and what daily life was like. The more I discovered, the more Japan appealed to me, for the following reasons: its advanced society; favorable geographic location and proximity to Vietnam (only a five-hour flight away); strong in the industries I wanted to pursue – economics and human resource management.
I eventually applied to Sophia University's English-taught Faculty of Liberal Arts in the center of Tokyo, Japan's capital. As the pioneer of English-taught higher education in Japan, I could rest assured that the quality of teaching there would be high.
My application to Sophia University was challenging to put together: I had to take the TOEFL, SATs, as well as submit my high school transcripts and recommendations from two teachers, as well as an essay on why I wanted to study at Sophia. I had to think very carefully about how to highlight my strengths and motivations, as well as showcase why I deserved a scholarship.
But thanks to the guidance and care of my teachers (especially the English teachers at Nguyen Sieu), and the advice given by seniors, as well as the many hours of hard work poured into polishing up my essay and application portfolio, I was fortunate enough to be awarded a full scholarship that covered all my tuition fees.
Life as a University Student in Japan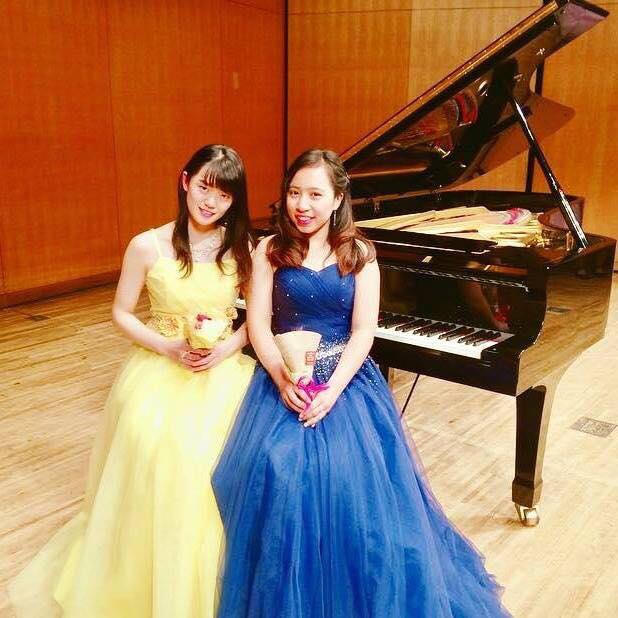 Performing as a member of the Sophia Piano Society
Living and learning in Japan has taught me so many things - not just knowledge in the classroom, but also about the many virtues I have picked up from the Japanese. In classes, teachers always encourage us to raise our opinions, to bring up contrasting viewpoints and think independently. As an Economics major, we learn about various economic models and think about how they are applicable to socio-political realities. For example, we might discuss and challenge the policies of Japanese Prime Minister Shinzo Abe and the Japanese Cabinet. Studying with a diverse group of students from every continent on the planet definitely make debates and group work interesting as well!
Outside of classes, I have been participating in various activities such as the Sophia Piano Society and Aikido (a modern Japanese martial art). Extracurricular clubs in Japanese universities are disciplined and united, but seniors are there to guide the juniors in getting used to the practices and club rules.
Each year, Sophia University hosts a few big events, such as the Sophia Festival, which runs for three days in early November. Extracurricular clubs will promote their names by setting up stalls around campus, as well as putting on spectacular performances. Two years in a row, I participated in all three days of the festival, immersing myself in the colourful and vibrant atmosphere, performing piano pieces and selling takoyaki with the aikido club.
Taking Up A Part-Time Job
To help my parents cover my living expense, I found a few part-time jobs, such as working in a café and tutoring. Even though I only work part-time, I've found that the Japanese still place a big emphasis on discipline and responsibility. My managers gave me proper and extensive training - from the style of attire to the way we communicate with guests - as with my other full-time colleagues.
Perhaps, like me, many of you who have studied in Japan have also learned the most about the culture and discipline of work in Japan from seemingly simple work. I have learned a lot about humility, as well as grown in self-discipline in my work and professionalism here. However, even though more working more hours is attractive as you can earn more money, remember that studies are more important. If you maintain a good academic track record in school, you have a greater chance of winning a scholarship that can support your studies.
On Weekends and Holidays ... See More of the Country!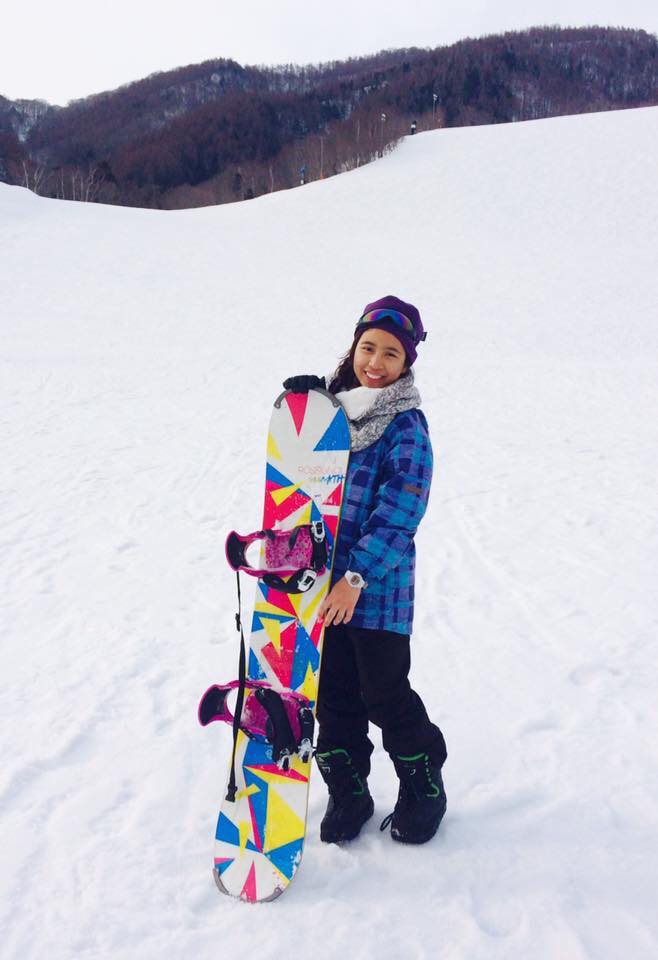 On weekends or long holidays, I often explore places around Tokyo city, or travel to neighbouring provinces. Japan is well known for for its public transportation, which is efficient, punctual and safe, so that even when I am travelling alone, I have peace of mind. Furthermore, Japanese train companies often offer season passes, so that one can travel affordably.
In my first year, I backpacked from the east to west of Japan, starting in Tokyo and then travelling to various cities such as Nagoya, Osaka, Kyoto and Hiroshima etc.
Japan's landscape is truly romantic, not just because of the harmony of the four seasons, but also the combination of ancient and modern. Here, one can never run out of places to go. I've been here for two years now, but there are still so many interesting places for me to explore.
Tips Before Moving to Japan
You should reach at least elementary proficiency of Japanese (N4) before moving to Japan. Since many Japanese are not fluent in English, getting about on a daily basis will be much easier if you can communicate in Japanese.
Transportation in Japan is mainly via tram and walking, so you'll need to be mindful of punctuality and willing to walk, a lot. A typical Japanese might walk 5-8km on a daily basis.
Japanese place an emphasis on responsibility and passion for learning, so don't be afraid to ask if you don't understand something at school or work. They will be happy to guide you! If you are sincere about learning, teachers, friends and seniors are all willing to help.
Cultivating long-term relationships is important to the Japanese. You might need more time to make friends with Japanese, but when both sides are familiar with each other and understand each other, you will have established a good friendship. Till now, I still keep in touch and meet with a few Japanese friends I met while at Nguyen Sieu. Even though we live more than 200km apart, we still meet at least once to twice a year.
Reflection
When I think about it again, I still believe I made the right choice choosing Japan as my ideal destination, filled with opportunities and attractions. From the day I came to Japan, I was surprised by the changes I saw in my self, as I became more independent, responsible, committed to my work, with a desire to contribute to the community. People are not at all wrong when they say that taking some time to see the land of cherry blossom is one of the most unique things one can do.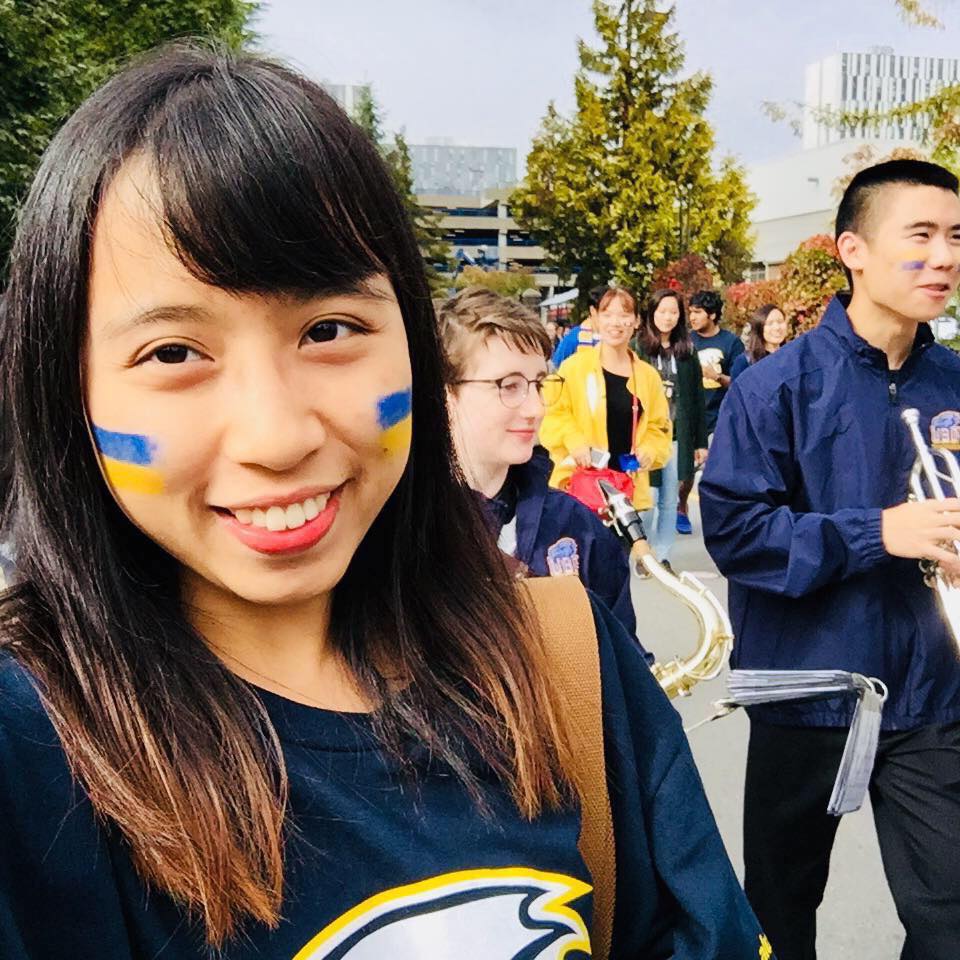 At the University of British Columbia's (UBC) Homecoming Parade in Vancouver, Canada, where Ngan Ha is currently on exchange
Student Profile
Graduated from Nguyen Sieu High School with a 9.1/10
TOEFL 112/120
Awarded a full scholarship to Sophia University, Tokyo, Japan
Awarded JASSO Monbukagakusho Honors Scholarship of 488,000 yen for AY2016-2017
Awarded Takase Group Scholarship of 1,200,000 yen for AY2017-2018
Awarded Sophia University Academic Excellence Awarded in AY 2017-2018 (Top 1% of students in terms of GPA, nominated by the Dean)
Awarded 70,000 Vaccari Scholarship for International Students of Liberal Arts for excellent academic achievement
Awarded Amix International Exchange Student Club Scholarship of 240,000 yen for AY2018-2019
One of three students from Sophia University sent to study on an exchange programme at the University of British Columbia (UBC), in Vancouver, Canada, in AY2018-2019. UBC is the 2nd highest-ranked university in Canada, and 37th globally